AXIS MVNDI – COSMIC RADIO SCULPTURES
---
20th May 2022 - 31st Jul 2022
UNTIL Sunday 31st July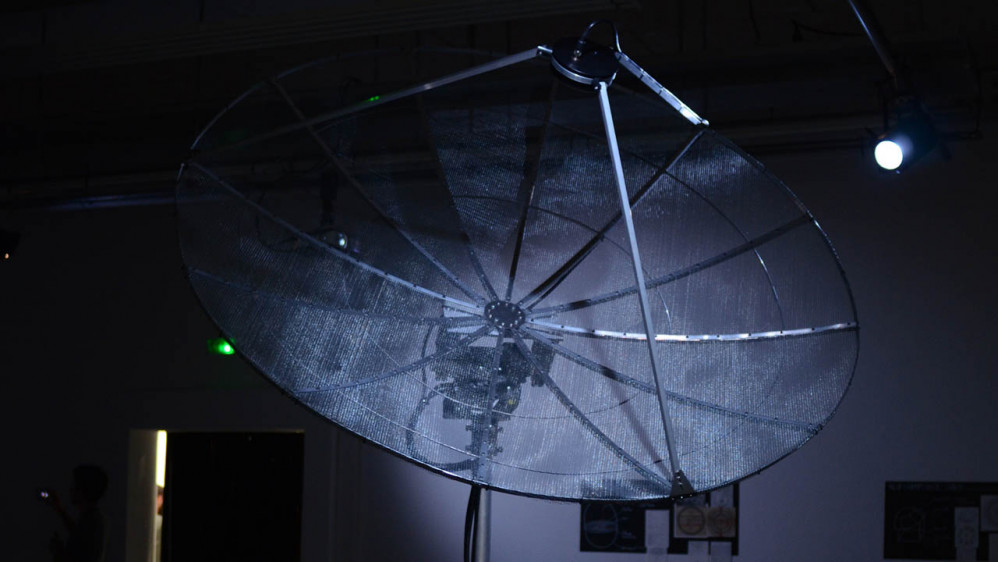 Axis Mvndi is a device that sends radio waves in space in order to draw shapes at a cosmic scale. By playing on the movement of a dish antenna, ancient cosmological models are materialized into space and become autonomous shapes in infinite movement.
The shapes drawn by Axis Mvndi correspond to representations of the universe imagined during antiquity: Babylonian constellations, seas of the Hindu cosmic egg, Greek burning wheels or Norse Yggdrasil. Using modern techniques to project these figures in space, Axis Mvndi is positioned as a poetic realization of these ancient representations.
The installation is centered around a motorized 2m parabolic dish antenna. This antenna is rotating continuously, broadcasting waves in the desired direction to achieve the drawing of a cosmological form. On a wall, a video projection follows in real time the course of waves. Anthropological and scientific documentation on cosmological representations is displayed on another wall. PLEASE NOTE: As part of the Watermans Weekender, Klio Krajewska, Watermans' Head of New Media Arts Development, will give guided tours of the exhibition on 11 & 12 June (times tbc)
Add your Brentford event for FREE here!
Nub It